Wholesale Strap Webbing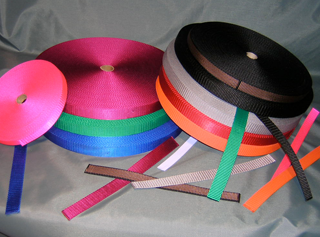 Fabri-Tech's stock webbing is sourced and acquired from trusted and reliable vendors. Our wholesale vendors provide us with webbing engineered, tested, and inspected to meet standards.
All our stock webbing can be ordered in colors, material, weaves, or styles, and cut to specific lengths to meet your requirements. All the webbing we stock supports all of our services we offer and more. Applications including, but not limited to, bags and cases, child protective restraints and safety strapping, laundry straps, transportation tie downs, and pet and animal control and accessories.
We offers low-cost wholesale pricing to business with a minimum order quantity of 50-yard rolls. Fabri-Tech has over 50 years experience in custom manufactured components and subassemblies for a wide variety of applications. Contact Fabri-Tech to learn more about our custom straps and hardware manufacturing.